Everyone has to eat, and Daytona Beach has plenty of choices. Virtually every cuisine is represented in Daytona Beach. If your restaurant is missing from the list below, please contact us. We'll be happy to exchange links with any restaurant web site in the Daytona Beach area.
Daytona Beach Beaches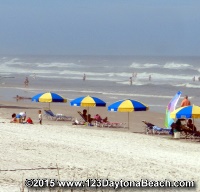 23 miles of hard packed sand and a history of auto racing on the beach is what gives Daytona Beach a special reputation. Rent a dune buggy or ATV or drive your own car on the famous beach and enjoy the sights.
Beach driving is allowed during daylight hours from one hour after sunrise to one hour before sunset, with the exception of turtle nesting season, which runs from May 1, through October 31, at which time the hours are set from 8:00 a.m. to 7:00 p.m. Beach driving conditions are sometimes poor during high tides and the beach may be closed to vehicles. The speed limit on the beach is ten miles per hour.
Advertise here. Contact us for more information.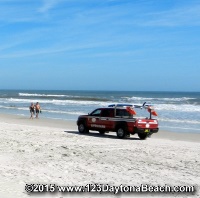 Be careful when walking on the beach. The beach isn't as wide as it once was and quite often there isn't much walking room except in the surf.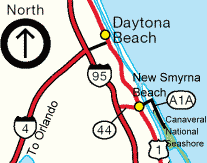 Just south of Daytona Beach is New Smyrna Beach and the Canaveral National Seashore managed by the National Park Service. Visitors may enjoy walking the nature and historical trails during the cool winter months. Throughout the year opportunity for recreational activities include; lagoon and surf fishing, boating, canoeing, surfing, sunbathing, swimming, hiking, horseback riding and backcountry