Angell & Phelps Chocolate Factory
Guided tours are available on the history and how-to of making chocolate. The factory is housed in the Daytona Beach location and provides daily tours of the facility including free samples!
154 South Beach Street
Daytona Beach 386-252-6531

Bulow Plantation Ruins State Historic Site
Old Dixie Highway, north of Ormond Beach
386-517-2084
Founded in 1821, "Bulow Ville" plantation was destroyed in the Seminole Indian War. Ruins and open-air museum. Picnic facilities and canoe rentals. Hours are 9 a.m. - 5 p.m. daily.
The Casements
25 Riverside Drive
Ormond Beach
386-676-3216
Former winter home of John D. Rockefeller. Contains Rockefeller period room and other exhibits. Tours are offered 10 a.m. - 2:30 p.m. Monday through Friday; and 10 a.m. - 11:30 a.m. on Saturday.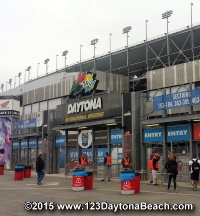 Daytona International Speedway And Museum: The Daytona International Speedway, known as the -World Center of Racing- is host to high-speed activity each day of more than four months of ever year. If you arrive on a non-event day, you can take a tour of the famous track. Climb aboard a van and ride down the backstretch on the aprons of the Speedway's 31-degree banked curves and then through the garage area. Then visit the Speedway museum featuring trophies, A/V displays, a pace cars and memorabilia of NASCAR racing greats.

Howard Thurman Home
614 Whitehall Street
Daytona Beach
386-258-7514
www.stetson.edu
Childhood home of Dr. Howard Thurman, mentor of Dr. Martin Luther King, Jr. Listed on the National Register of Historic Places. Included on the Florida Black Heritage Trail.
Mary McLeod Bethune Home & Gravesite
Bethune-Cookman College, Bethune Foundation
640 Mary McLeod Bethune Blvd., Daytona Beach
386-481-2200
www.bethune.cookman.edu
Former home of Dr. Mary McLeod Bethune, civil rights leader, educator, and founder of Bethune-Cookman College. National Historic Landmark. Hours: 9 a.m. - 4:00 p.m. Monday - Friday. Weekend tours by appointment. Admission: free.
Daytona Ghost Walk
Main Street & Peninsula Drive
Daytona Beach
386-253.6034
An entertaining journey blending history, scientific data and haunting tales.
Tours begin at 7:30pm on Fridays and Saturdays. $ Children
under 6 are free. Reservations required.

"New Deal" Permanent Exhibit
Bethune-Cookman College, Carl S. Swisher Library
640 Mary McLeod Bethune Blvd., Daytona Beach
386-481-2200
www.bethune.cookman.edu
Established by Smithsonian Institute. Showcases contributions of FDR's "Black Cabinet." Hours are subject to the academic calendar, including holidays, and semester breaks.
Advertise here. Contact us for more information.
Old Daytona
Beach Street and surrounding area
Daytona Beach
Sleepy tree-lined streets where the town began in the early 1870s. Downtown Halifax Historic Museum. Live Oak Inn. Riverfront park contains Burgoyne and Brownie the town dog memorials.

Ormond Tomb Park
3268 Old Dixie Hwy, Ormond Beach
386-257-6000, ext. 5953
www.volusia.org/parks
13 acres with nature trails and historic markers. Picnic Area. Playground. Restrooms. Volleyball. Open daily sunrise to sunset. Admission: free.
Pioneer Settlement for the Creative Arts
Two blocks west of the intersection of U.S. Highway 17 and State Road 40
Barberville
386-749-2959
www.driveflorida.com/pioneersettlement
Ten-acre area contains exhibits depicting lifestyle of early settlers. Folk crafts. Open Monday - Friday, 9 a.m. - 4 p.m. Saturday, 9 a.m. - 2 p.m. admission: $
Ponce de Leon Inlet Lighthouse
4931 S. Peninsula Drive
Ponce Inlet
386-761-1821
www.ponceinlet.org
More than 100 years old, the 175-foot lighthouse is the second tallest lighthouse in the United States. Museum displays. Rare Fresnel Lens exhibit. Gift shop. 203-step climb to the top. Open daily 10 am - 5 p.m. (fall/winer), 10am-9pm (Memorial Day till Labor Day). Adult admission: $ Children: discount
Rosewood Exhibit
Bethune-Cookman College, Carl S. Swisher Library
640 Mary McLeod Bethune Blvd., Daytona Beach
www.bethune.cookman.edu
386-255-1401, ext. 321
Depicts life in the community of Rosewood, Florida from 1845 to the infamous Rosewood Massacre of January 1, 1923. Open Tuesdays and Thursdays, 11 a.m. - 1 p.m.
Speeding Through Time
Daytona Beach Boardwalk, Daytona Beach
Granite blocks built into the boardwalk chronicle the history of racing in the Daytona Beach area up to 1959 when the Daytona International Speedway opened.
Sugar Mill Botanical Gardens
950 Old Sugar Mill Road
Port Orange
386-767-1735
English sugar mill ruin. Botanical gardens. Life-size concrete dinosaur statues. Human sundial. Open daily from dawn to dusk. Admission: free.